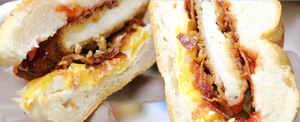 Breakfast,
lunch and dinner
Super Clean, Sharp, In Focus
Catering
Breakfast, Lunch, Dinner Late night meeting, or the big game.Let Rocky's prepare the food for your next event.
See Our Menu
Sandwiches
We have a huge selection of hot & cold sandwiches, including our own specialty sandwiches.
View Menu
Salads
We have a huge selection of salads ranging from potato, macaroni, chicken salad, seafood and many more.
View Menu
Order Online
Your just a few clicks away from ordering online. Click the button below and it will take you to our order page.
"Good place for late at night when everything is closed since this place is open 24 hours! When you walk in, it's usually crowds of younger kids but don't worry, plenty of people working behind the counter and they do a good job getting everyone taken care of.They have good breakfast sandwiches and their chicken cutlet sandwiches are also popular."
Rocky's History
Rocco Cambariere Purchased "Bader's Delicatessen and Grocery" from Ernest Bader, located on Rt.120 next to the Millwood Fire House. Then in 1966 the deli was moved to its present location on RT.100 in the newly constructed Mill Plaza . At the time the name was changed to encompass the man behind the business "Rocky's". Rocky continued running the business with the assistance of his wife Ruth, eldest son Tom,Lucy Nelson ( a local women) , and young Greg Santone having started working there at 10 years old. In 1980 Tom Cambariere and Greg Santone Purchased the deli from Rocky but retained the name that had become widely known.They changed it from your typical 8-6 deli to what is now known as " the deli that never sleeps". It has remained open 24/7 365  a year for the past 30 years.Greg Santone bought out his partner in 2004 and continues to run the " well oiled " store with the aids of his partner Cheri and a loyal, hard working staff both past and present.
None of this would have been possible without loyal customers through the years!
Rocky's has continued to render food and banter for the local communities. Rockys has become the place to call for the local school closings , weather contentions, and fire department functions as well as the drop off and pick up for dry cleaning, prescriptionsand hardware items.We hope to continue long into the future